Jurassic World: Dominion Dominates Fandom Wikis - The Loop
Play Sound
Listen carefully. I'm not a horse. I'm a person. That's why I wanna know who you people are... and how you can commit such atrocities against people. That's why... I can't forgive you for everything you're doing.

Seong Gi-hun to the Squid Game organizers in "One Lucky Day"
Seong Gi-hun (성기훈 Seong Gi-hun?, born October 31, 1974)[1], also known as Player 456, is a long-standing resident of Ssangmun-dong, Seoul. A former gambling addict, Gi-hun faced crippling debt from loan sharks for many years before participating in, and ultimately winning, the 33rd Squid Game in 2020.[3][4]
Born in Ssangmun-dong, Gi-hun was childhood best friends[5][6][7] with Cho Sang-woo. He worked as a Dragon Motors employee for sixteen years. After he was laid off in 2011 due to the owner's inability to pay his employees, Gi-hun worked in several odd jobs. He also owned a fried chicken restaurant and a snack bar, both of which failed. He also had a five-year career as a chauffeur. In 2009, Gi-hun got married and had a daughter in 2011, but her custody was granted to his wife after their divorce in 2017. By 2020, Gi-hun was living with his mother and had developed an addiction to horse race betting, which resulted in him being in debt to a group of loan sharks who threatened him with physical violence if he didn't pay up. Gi-hun also found out from his mother that he was a year away from losing contact with his daughter, who would be moving to the United States with her mother and stepfather.
Gi-hun became aware of the Squid Game when a salesman informed him about them after they played ddakji. Gi-hun accepted the offer to join the Squid Game in hopes of winning a large amount of money to pay back his large debts and his mother's hospital bills, gain back custody of his daughter, and secure a good life for him and his family. In the first game, Gi-hun was reunited with Cho Sang-woo and a girl who pickpocketed him, Kang Sae-byeok. He was saved during the game's climax by Ali Abdul. Throughout the games, Gi-hun formed an alliance with the aforementioned players and Player 001, and frequently showed compassion towards them. As the games increased in their brutality and the competitors were becoming more demoralized, Gi-hun slowly lost his desire to win the money and instead only continued to survive. After automatically winning the sixth and final game following Sang-woo's suicide, Gi-hun was returned to Seoul with a bank card to access the prize money, but when he returned home to tell his mother he could afford her treatment, he discovered that she had died.
A year after his win, Gi-hun was still traumatized and hadn't touched any of the prize money. He received an invitation card from his gganbu, and was furious and disgusted when it was revealed that Oh Il-nam, the old man Gi-hun had befriended, had created the game to entertain bored ultra-rich people like himself. After the two made one last bet which Gi-hun won, Il-nam died shortly after. Gi-hun retrieved Sae-byeok's younger brother Kang Cheol and entrusted him to Sang-woo's mother, giving them a share of the prize money. After Gi-hun travelled to the airport to reconnect with his daughter in Los Angeles, he saw the same salesman playing ddakji with another desperate person in debt. Gi-hun took the person's invitation card and called the number before boarding his plane, demanding to know who is running the games. He then went against the Front Man's suggestion of getting on the plane and walked away from the airport, likely to fight back against the game's organizers.
Personality
You don't trust people because they are trustworthy. You do it because you have nothing else to rely on.

Seong Gi-hun's advice to Kang Sae-byeok in "Stick to the Team"
Gi-hun is shown to be a friendly and talkative individual, often engaging to converse with those around him. He frequently demonstrates his caring and thoughtful nature, as he takes it upon himself to look after Il-nam and to protect Sae-byeok from Deok-su.[8] During Red Light, Green Light, Gi-hun was frozen in shock throughout most of the game.
Gi-hun's darker actions are often made out of desperation rather than selflessness or cruelty, such as his manipulation of Il-nam during the Marbles round: Gi-hun weeps during the game and displays signs of remorse and sorrow following Il-nam's elimination.[9] He also planned to kill Sang-woo when he falls asleep before the start of the sixth game until he is talked out of it by Sae-byeok, who tells him he is not a murderer.
Despite his failures as a father and son, Gi-hun does demonstrate that he deeply cares for his family. He is devastated at the idea of losing his daughter and desperately tries to convince his mother to get medical treatment for her diabetes, falling into a year-long depressive state after her death. Following the games, he developed PTSD and stopped a man from entering the games to prevent the man's death.
History
Backstory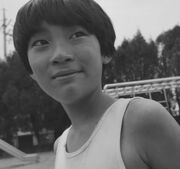 Seong Gi-hun was born on October 31, 1974, in Ssangmun-dong, Seoul, where he grew up with his mother Oh Mal-soon and remained in as an adult. He was childhood best friends with Cho Sang-woo, with whom he developed a very close and brotherly relationship.[5][6] They would play multiple children's games together, including Squid Game, Red Light, Green Light and Dalgona. When playing and winning Squid Game, Gi-hun stated he felt as though he owned the entire world at that moment.
Gi-hun worked at Dragon Motors for sixteen years, but was later laid off and went on strike with his other employees. During the strike, one of his coworkers died. This happened to be the same day his daughter, Seong Ga-yeong, was born. Gi-hun later ran Ga-yeong's Chicken Shop and Snack Bar for two years (until the business went under), and he worked as a chauffeur for five years.[10][1] After divorcing his wife, Kang Eun-ji, she got custody of their daughter and remarried. Her new husband disliked Gi-hun seeing Ga-yeong to Gi-hun's anger and consternation.
2020
A debt-ridden chauffeur and gambling addict, Gi-hun initially depended upon his mother for financial support and became heavily indebted to loan sharks. After winning a game of Ddakji with a salesman in a Seoul Metro station, Gi-hun was given an invitation to participate in the 33rd Squid Game. He agreed to enter the Squid Game to pay off his debts and be able to financially support his daughter, so she would not have to move away from South Korea with her mother.[10]
After surviving the first round with help from another player, Gi-hun was among the majority of contestants who voted to withdraw from the competition, but he ultimately decided to voluntarily return after realizing that his daughter would be going to the United States of America with her mother and step-father, meaning that there were no means of keeping his child with him otherwise.[11] He quickly connected with several other players, including his childhood best friend Cho Sang-woo, as well as Oh Il-nam, Kang Sae-byeok, and Ali Abdul.[12][8] As he progressed through the rounds, Gi-hun demonstrated empathy and compassion toward his fellow players. However, he also showed a capacity for manipulation and deception when necessary to survive, such as when he regretfully tricked Il-nam during a game of Marbles.[9]
Gi-hun was one of two survivors to make it to the final round of the competition, along with Sang-woo, who by now had become his rival. The two faced off in a Squid Game, which Gi-hun won, after which he attempted to end the games prematurely in order to spare Sang-woo's life. However, Sang-woo killed himself, crowning Gi-hun as the official winner of the 33rd Squid Game. He was set free with ₩45.6 billion in prize money. He later on discovered that his mother had passed away from her diabetes. Despite having the prize money, he was so traumatized and disillusioned by the games and what had cost him that he didn't spend any of the money, instead living an aimless life in a hopeless state of mind.[3]
2021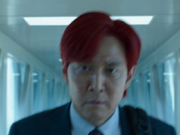 One year after the conclusion of the 33rd Squid Game, Gi-hun visited Il-nam in the Seoul Sky Tower, where the old man was waiting for his end. Gi-hun became furious as he found Il-nam was the creator and mastermind of the Games and he sought the reasons for the existence of such a cruel game. Il-nam died in the presence of Gi-hun. Upon leaving the hospital, Gi-hun decided to have a new start in his life, changing his looks and reinvigorating himself. He found Sae-byeok's younger brother and took him to Sang-woo's mother, gifting her a portion of his prize money. Gi-hun made arrangements to visit the United States to reconnect with his daughter. However, he accidentally found the same Salesman who had invited him recruiting other contestants for future Squid Games, whom he attempted to chase only to find him escaping on a metro. Gi-hun immediately seized the card from the man who had played with salesman. While boarding his flight to the United States, he called the game's organizers using the number on the card he seized, requesting that they stop the game. He was advised to stay away from causing problems to future games, indicating that he is still being kept under surveillance by the Squid Game Staff. Despite this, Gi-hun decided to call off his journey to America last minute and started walking back, likely to seek revenge and fight back against the game's organizers.[3]
Appearances
Behind the Scenes
Seong Gi-hun is the main protagonist of the television series Squid Game. He is portrayed by actor Lee Jung-jae and was voiced in the English dub by Greg Chun. Lee Jung-jae will reprise his role as Gi-hun in the second season of Squid Game. As the season is only in the conceptualization stage, not much is known about Gi-hun's involvement, but series creator Hwang Dong-hyuk stated that "he will do something for the world."[13]
The younger version of Gi-hun is portrayed by actor Kim Yeon-ung and in the English dub was voiced by Nathan Yi, who also dubbed Kang Sae-byeok's brother, Kang Cheol.
Trivia
Director Hwang Dong-hyuk confirmed in an interview that Gi-hun dying his hair red is purely symbolic. It is meant to show that now Gi-hun is filled with rage and is unable to return to who he once was.
In "Hell", he swears he won't ask Kang Sae-byeok for his money back on his mother's life. He laters breaks this, which forshadows his late mother's demise.
According to his player file, Seong Gi-hun's resident registration number is 741031-1185623 and his address is 11, Samyang-ro 12-gil, Ssangmun 2-dong, Dobong-gu, Seoul.
He, Hwang In-ho and Cho Sang-woo are the only characters that appeared in all nine episodes.
Hwang Dong-hyuk stated that he perceives Sang-woo and Gi-hun as fraternal twins, and part of the casting of the two characters was to make them look like they are because he wanted them to emulate this relationship. Dong-hyuk explains that fraternal twins are very close in childhood, but look different despite coming from the same mother, and they usually go on different paths in life.[6][5]

In an interview, Lee Jung-jae stated that they are not biologically related, but still close as if they were.[7]

Because his surname was Seong (성;成) as referred in Chinese translation of Squid Game, it is implied his family were descendants of Changnyeong Seong clan (창녕 성씨;昌寧 成氏), because this the only Korean clan that have very likely surname of Gi-hun. People with that surname are all said to be descended from this clan.
Gallery
References